People have been repurposing items for as long as man has been alive. The cave men turned rocks into arrows and branches into spears.
There are always new things – and new ways to repurpose and I will highlight some of the items that I have seen lately.
I think that sometimes people hear the word repurpose and think, oh no, this requires sanding and painting and I will never get to it. While some repurposing projects do require painting and sanding, there are just as many that merely require some cleaning – or just using in a different room for a different purpose.
Last year, I sold a Portuguese Meat Scale at one of my sales. It's hard to appreciate in the original photos as none of the scales are hanging on it – nor are all the individual weights in the designated slots below. But this thing was solid brass – and a beauty.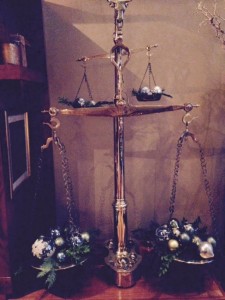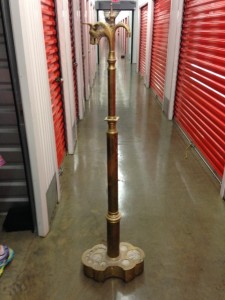 Fortunately, my neighbor purchased it so I was able to see what it was used for. This woman is an incredible artist and I was so thrilled when we went to her house for a holiday celebration and there it was. She had polished the brass and used it as an amazing holiday decoration. It fit perfectly into the space where she had envisioned it and was cleverly festive.
This required elbow grease and a little creativity.
Dining room hutches and buffets are great for repurposing. You've probably all heard how hard it is to sell 'the browns' – this applies especially to dining room hutches and buffets in cherry, walnut or mahogany.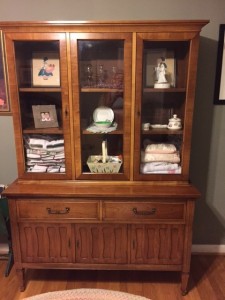 People get tired of bumping into them and just don't have room for them in their dining room. But they can't sell them – and sometimes they want to keep them for sentimental reasons. They just don't want them in the dining room.
This is a case of merely moving them to another room. I had a beautiful hutch at a sale that didn't sell. I couldn't stand to let it go, so I purchased it and put it in one of my guest rooms. It holds linens, toiletries and other items – and is perfect in that room.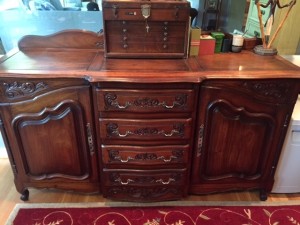 Another time I purchased a buffet. This item was very large but I realized that it would replace an area in my study. Instead of the smaller multiple cabinets that were taking space in that area, I was able to replace it with this one piece. It looks much nicer and is much neater looking.
Old wooden chairs – this is nothing new. They look great in a garden with a plant and require no touch-up since they are going to be outside and will quickly weather anyway.
There are several great ways to use wine corks – bulletin boards, hot pads, etc., but did you also know that you can bring them to Whole Foods and they will recycle them?
My son had hundreds of Lego pieces and while I want to keep some of them, they can also be creatively encased in a shadow box and hung on the wall.
Have you seen the kid's crocs hanging on a shed with little plants in them? They look adorable.
Glass canisters are great for making terrariums. Just buy some rocks, dirt and a small plant that doesn't need much water. They are just as easy to maintain as they are to make.
Baby Dresses can easily be turned into hanging bags for plastic bags, clothes pins, etc. Just sew a seam along the bottom and insert into hanger. If you don't want to sew, you can use some heavy duty tape to seal the bottom.
Old wooden ladders are great for displaying a variety of things – from purses to tablecloths to blankets. Some of them will need some painting and sanding but as long as they have a good coat of shellac, the items hanging on it will be protected from 'catching' on the wood.
These are just a few items that can be repurposed. Sign up for our monthly newsletter to get more useful ideas. And if you have something that you repurposed after purchasing it at one of my sales, please send before/after photos with description to galecurcio@verizon.net.
Gale Curcio is the owner of SALE by GALE, an estate sale company specializing in full-house sales Northern Virginia. Visit her website at www.salebygale.com to see other blogs.